PUSSWEEK - new issue out meow!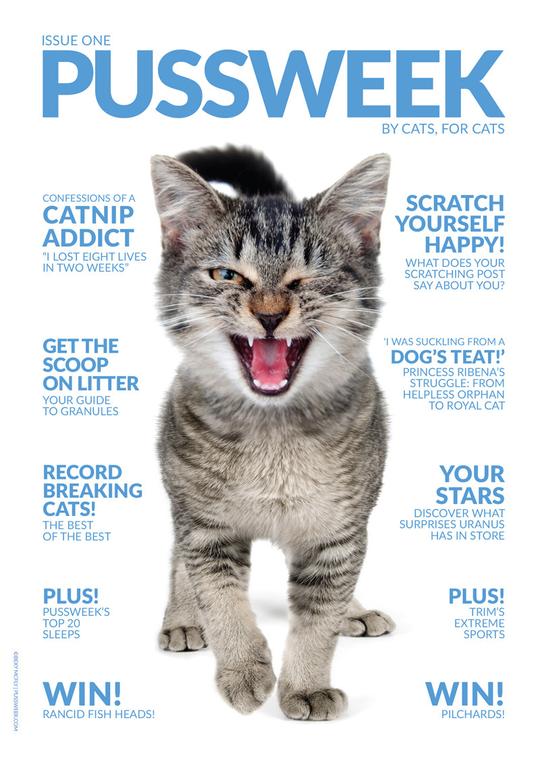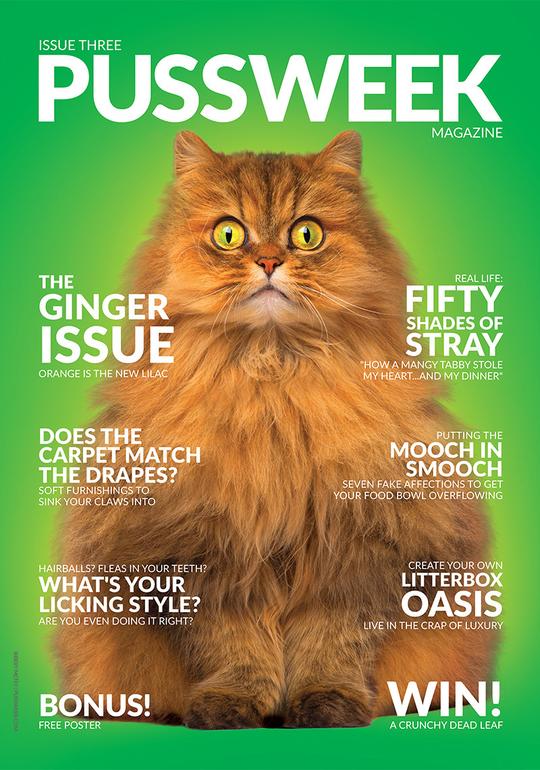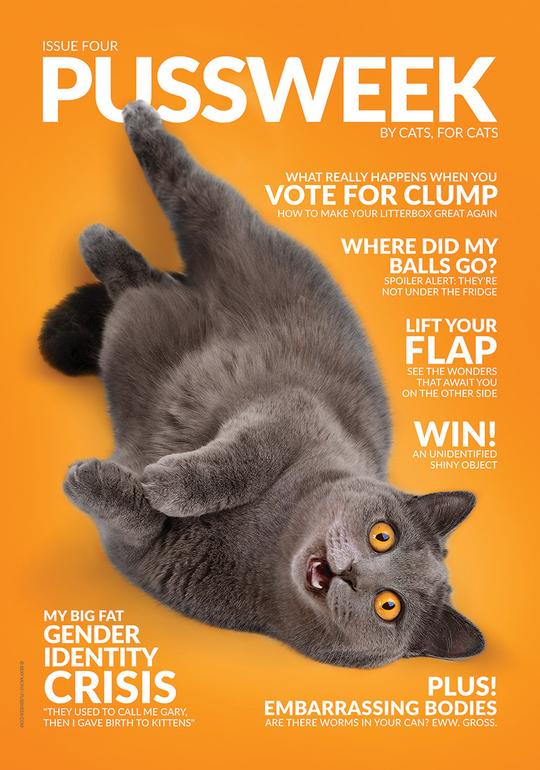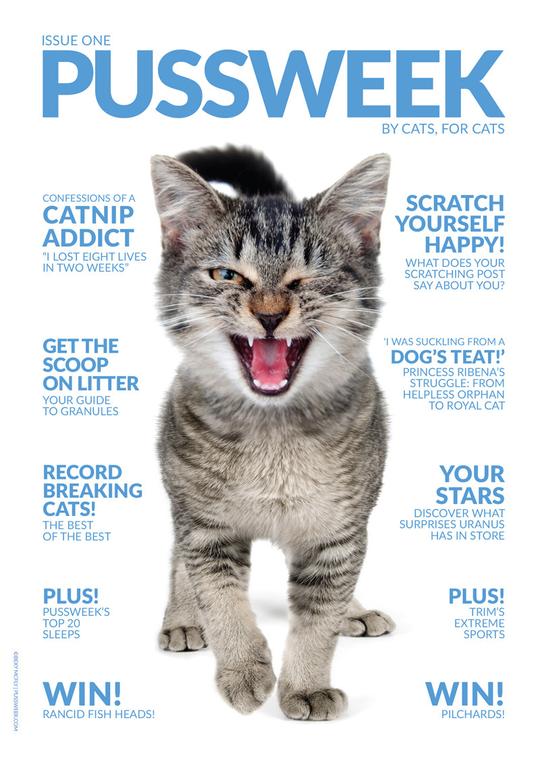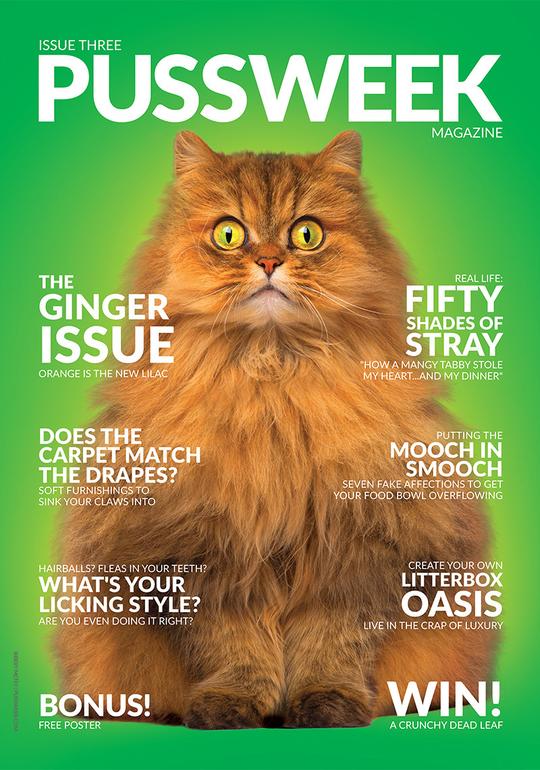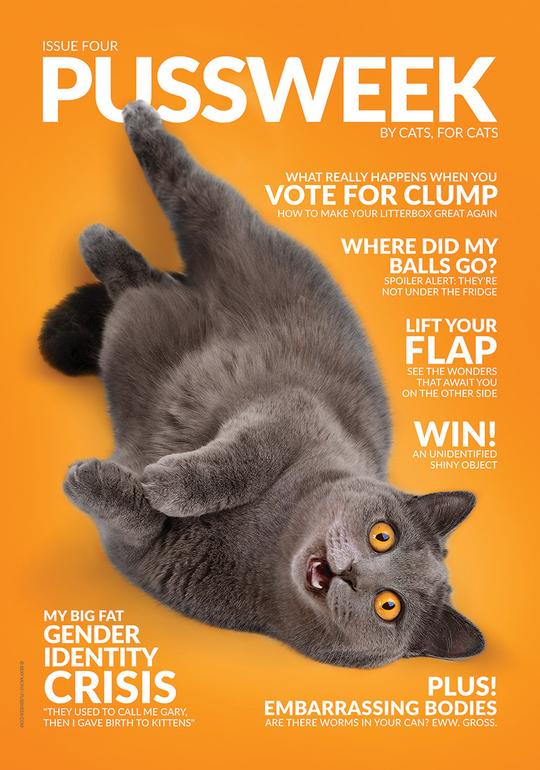 PUSSWEEK - new issue out meow!
Pussweek is the #1 best-selling book written by cats, for cats.
This means STRICTLY NO HUMANS ALLOWED, so if you have opposable thumbs just get out of here right meow!
Printed on high quality paper that's great to chew and/or sit on when you're done.

Issue One covers important issues such as catnip addiction, litter, sleep, scratching post selection, plus competitions, advice, an insightful quiz and much more.
Issue Two teaches us how to catch the red dot, which windowsill is right for your body type, and helps us discover what plastic bags are really up to.
Issue Three "THE GINGER ISSUE" is best read on the litterbox, but whatever floats your kibble. Includes bonus poster!
Issue Four covers hard-hitting topics such as balls, flaps, worms, what really happens when you vote for clump, and the heart-wrenching story of a cat called Gary and his gender identity crisis.
Pussweek Issue Five is DOUBLE TROUBLE with two hot covers to get your fur shedding like never before!
Get warmed up with The Spook Edition - a.k.a. The Black Issue! We help you figure out if your human is a witch (or just a colossal jerk), become a super bad-ass scary cat, read one cat's real life thermometer horror story, find out the winner of Pussweek's Next Top Model, and loads more!
Then flip your furry butt over for the Fame Issue - featuring famous cats from around the world, including Cole & Marmalade, Sophie The Model, and an up-close intermew with our newest covergirl, Lil Bub!
And best of all, Issue Five comes with a SUPER SCARY SEALED SECTION that's so controversial we had to lick it shut!
Issue Six
Is your body up to scratch? Are you being fat shamed by your human? Are you nuts, or just unneutered? How can you be a bald-ass badass?
Whether you want to get into shape for napping season, or just drool over a risqué centrefold alone in your litterbox, Pussweek Issue Six will have you questioning more than just your felininity…
Issue Seven - The Holiday Edition - is sure to get your head out of your sack and into the Catmas spirit. Or not.
In this special keepsake issue we delve into topics like that overdressed tree inside the house, Santa Claws, baubles, what to do when you're home alone for the holidays, how to make your own D.I.Y. defecations, and much much more! PLUS! You could WIN a discarded piece of wrapping paper! Me-Wow!!